Join Dr. Irene Gladstein and Take Advantage of Industry-Exclusive Discounts on Trusted Injectable Products!
Project Glammers LEAP was expertly established to help you "leap" forward in the aesthetics industry with the help of valuable incentives and resources, as well as unmatched professional support and comprehensive training. By becoming a member of our LEAP family, you'll enjoy amazing benefits that aid in setting you on a path to true success in this exciting, ever-changing industry.
Your first step to unlocking all the benefits LEAP has to offer is to simply register here to be on our informative newsletter mailing list, along with access to periodic webinars, new course alerts, and our social media channels. 
While training is first and foremost our mission, yet another attractive incentive to becoming a LEAP member is our industry-exclusive pricing on trusted products. For instance, we have secured exclusive discounted pricing on long-lasting Bellafill® when you purchase through LEAP.
LEAP's pricing benefits are set up in a special tier structure for our members. You can join at a Pro, Expert, or Master level, and your first purchase locks you in at that level. With that purchase, you agree to continue purchasing, at a minimum, that level going forward at least once per quarter to maintain your earned discounts and experience added benefits.
Our Bellafill pricing structure is exclusive to LEAP members only, so you won't find it available anywhere else in the industry.
But the benefits don't stop there! As a tiered member for products from any of our manufacturer partners, you will also receive further savings and training opportunities. These include discounts on future courses, fillers, and boxes, as well as one-on-one clinical support, shadowing opportunities, and hands-on refreshers with Dr. Irene or her personally trained associates. See chart for even more benefits: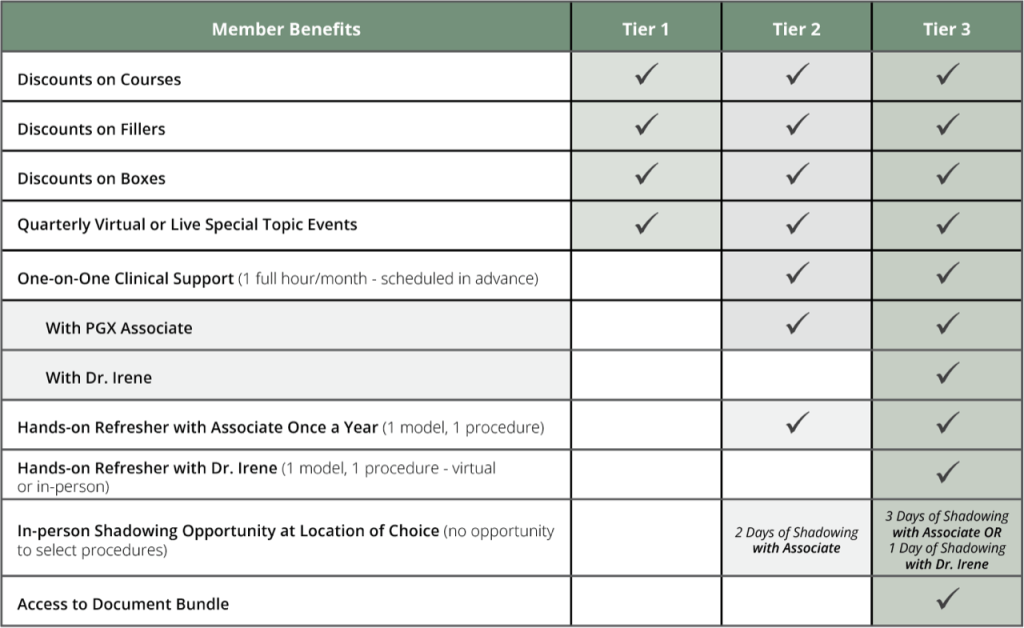 Join our family today!
To put it simply, we are a family of medical aesthetic providers…just like you. Our family is growing, and we'd love for you to be a part of that growth. After all, there's far greater strength in numbers. So, are you ready to advance your career in ways you never thought possible? Project Glammers LEAP is here to help you do just that with all the tools you'll need (and then some). Become a member today by clicking here and LEAP into your benefits!