With her innate passion for the industry, a keen artistic eye, and fervent work ethic, Irene Gladstein, MD, FACS, has established herself a true leader in aesthetics. As a board-certified oculoplastic surgeon and experienced master injector, Dr. Gladstein's desire to educate others to elevate the industry is the driving force behind her roles as medical director and lead trainer at Project Glammers® LEAP. 
LEAP is a comprehensive educational program featuring lectures and specialized training opportunities designed to help providers develop their aesthetic eye and train them in a holistic way to forge a path toward long-term success. 
Along with running her own successful practice known as Project Glammers featuring three locations across two states, Dr. Gladstein is also a highly regarded public speaker and trainer for global aesthetics manufacturers Allergan and Galderma. In addition, she's actively involved in the American Academy of Cosmetic Surgery and proudly serves on the board of Cosmetic Surgery Foundation.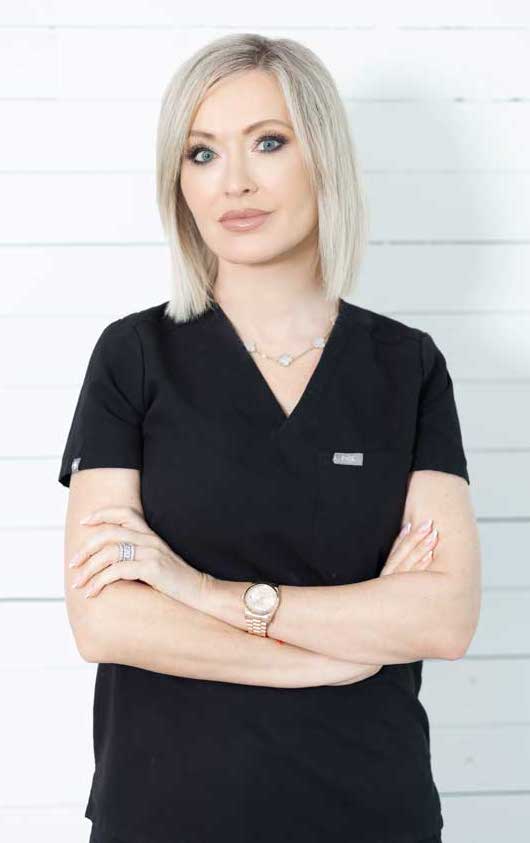 Born in Kyiv, Ukraine, Dr. Gladstein displayed a strongly developed creative side from an early age. When she and her family immigrated to the United States at the age of 15, she was eventually able to nurture that intrinsic creativity in the bustling cultural hub of New York City. 
After attended New York University School of Arts and Science, medical school came calling. Dr. Gladstein set her sights on cosmetic surgery for a number of reasons. 
"I knew that I needed to find something for myself where I would be able to be involved in both the artistry and the intellectual pursuit. Cosmetic surgery was it," she said. "I always knew I was going to go into aesthetics from day one. There was never any question in my mind because it always resonated with who I am as an individual." 
For Gladstein, cosmetic surgery was the perfect marriage of medicine and art, primarily oculoplastics due to the extreme level of skill and precision involved. That would ultimately help further her proclivity for aesthetics because she saw a clear path from oculoplastics to practicing aesthetics exclusively. 
Gladstein completed her residency at New York University Medical Center and Manhattan Eye, Ear, and Throat Hospital, the premier hospital for cosmetic eyelid surgery. There, she did the full scope of ophthalmic training and then proceeded to complete her oculoplastics fellowship at Cosmetic and Reconstructive Oculoplastics Surgery, where she was heavily exposed to aesthetics. She emerged with a full scope of understanding of the injectable component of nonsurgical aesthetics in addition to having had hundreds of cosmetic surgeries under her belt. 
It was then that she established the first Project Glammers location in New York City. It didn't take long for Dr. Gladstein to notice an evident need in her beloved profession. While there are numerous training events and other educational opportunities available, there is still a degree of disconnection as far as offering a clear understanding of what it takes to truly flourish in aesthetics for those who wish to learn. With everything from engaging with the patient and building trust to focusing on facial anatomy and creating remarkable transformations (and everything in between), Dr. Gladstein made sure that all bases have been amply covered through Project Glammers LEAP. She makes it a point to teach only the methods she uses herself that have proven to deliver safe, desirable results time after time.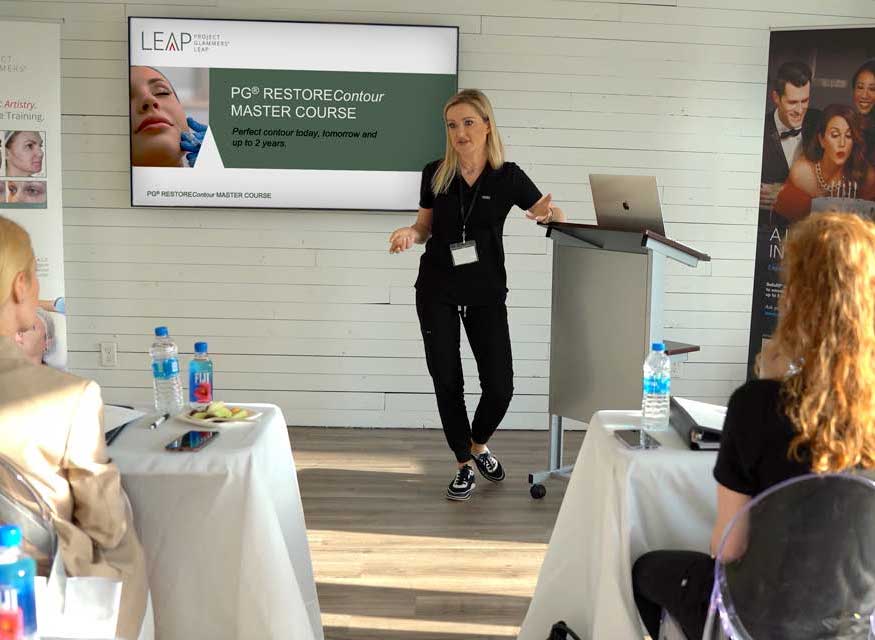 "The way I curate my practice is by incorporating methods, techniques, and procedures that I have tried, developed, and trusted to achieve appropriate yet safe results," Dr. Gladstein said. "That's what I'm now bringing to my Project Glammers LEAP participants, to replicate my mixed media approach and create the same level of results. There are technologies I will work with, and there are certain technologies I will not."
LEAP bridges the aforementioned disconnection in the industry and helps aspiring injectors overcome the hurdles that are often faced when starting out in the competitive and ever-changing specialty of medical aesthetics. 
"Even though there are tons of trainings available, there still is no clear guidance or standardization as to what one needs to do in order to start in aesthetics," Dr. Gladstein said. "If you don't know how to begin your educational pathway or don't know if you have what it takes to be an aesthetic artist, come to us. My team and I will teach you everything you need to know and then some. We've got all the tools." 
With her successful practice, numerous speaking engagements, sought-after training courses, and a family on top of it all, Dr. Gladstein is the embodiment of the American dream. And she wants to pay it forward by helping others achieve it. Project Glammers LEAP is the avenue by which she accomplishes that goal.